Rockefeller Center tour lasts just over 2 hours, available 7 days a week, $25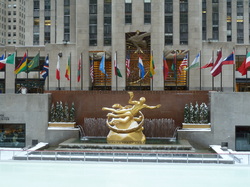 Rockefeller Center is a testament to the wonder and marvel of the Modern Age.

With the construction of Rockefeller Center, New York City bids a final farewell to the olden days of the nineteenth century. The era of skyscrapers was now firmly embraced. Modern Art had taken root and was now flourishing in the form of Art Deco architecture.

Mass communication, aeronautics, electricity, industry, manufacturing, transportation... these were the forces shaping the world of the twentieth century. Rockefeller Center was more than just a group of buildings - It was a statement to the world.

As the entire world was being dragged into turmoil, John D. Rockefeller Jr. was determined to assert his vision of free market Capitalism, in conjunction with the hardworking people of New York City, to show that great things could be achieved in the balance.

As we explore Rockefeller Center, we mainly focus on the art and architecture, the explosion of technology, and the introduction of modern art and modern thought... all taken in the context of the tumultuous world of the 1930s. But let's not forget, Rockefeller Center is home to Radio City Music Hall, NBC Studios, The NBC Experience Store, TWO high end chocolate shops, The Top of the Rock observation deck, The Ice Skating Rink, The Today Show Studio, and so much more.

See the famous sculpture of Prometheus stealing fire from the sun, Atlas holding up the cosmic sphere, and works by some of the greatest (and most controversial) artists of the time.

We will also explore some of the nearby buildings that grace Midtown.

Visit Saint Patrick's Cathedral, and Saint Thomas Episcopal Church... hear the stories and learn the history behind each of these institutions.

After the visit to Rockefeller Center, there are two choices. We can take the short walk over to the bright lights of Times Square. Or we can take a walk up Fifth Avenue for the ULTIMATE shopping experience (or if you prefer, WINDOW shopping). Gucci, Abercrombie and Fitch, Tiffany and Company, FAO Schwartz Toy Store, The Apple Store, The Shops in The Plaza Hotel... just to name a few.


---