The City Below Wall Street tour lasts just over 3 hours, available 7 days a week, $25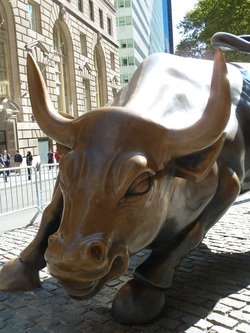 The City Below Wall Street is the financial capitol of the world.

The New York Stock Exchange. The American Stock Exchange. The Commodities Exchange. The Federal Reserve Bank with 7000 metric tons of solid gold in the basement. The financial analysts. The headquarters of the insurance industry. The hedge funds, the futures, the trusts... you can practically SMELL the money down there.

But this is also the site of the original Dutch colony known as New Amsterdam. From this tiny village sprang the most dynamic city the world has ever seen.

The seeds of New York City were sown back in the seventeenth century. See how they grew into the present day metropolis. Learn the history of the Tallest Buildings in the World.

Visit Battery Park and Clinton Castle, see the Statue of Liberty, the many monuments and memorials, and the Charging Bull sculpture.

Explore Wall Street and the old Federal Hall... the BIRTHPLACE of the American Government. Trace George Washington's steps as he takes the oath of office, and becomes the first President of the United States of America.

See Trinity Church and Saint Paul's Chapel with their historic graveyards where some of the most famous people in American history are laid to rest.

Visit the site of the World Trade Center. See the new buildings replacing the fallen Twin Towers. Walk the Valley of Heroes, where the ticker-tape parades celebrate some of the most important events in history.

Visit City Hall and the majestic Municipal buildings.

Discover the South Street Seaport and enjoy the view of The Brooklyn Bridge.

There are so many sights to see in Lower Manhattan. So many stories to tell. So much history to discover. If you REALLY want to get to know New York City this is where you start, because this is where it all started.


---