Central Park tour lasts just over 2 hours, available 7 days a week, $25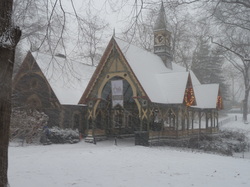 Central Park is the crown jewel of New York City.

Step out of the hustle and bustle of the big city. Feel the stress slip away as the concrete jungle gives way to the soft natural landscape. Say goodbye to the rigid grid pattern of the New York City streets, and hello to the gentle curves and winding paths. Listen as the noise of the city disappears, replaced by the sounds of birds chirping and squirrels munching on acorns.

Located in the geographic center of Manhattan, Central Park is a place for children to play. It's a place for fun. It's a place for romance.

It's easy to be fooled by the beautiful natural appearance. But Central Park is not natural at all. It is actually an amazing feat of engineering and hard work. Every tree, every bush, every plant... every path, every bridge, and every body of water... all meticulously planned and placed just so, in order to give the appearance that it is just where nature intended it to be.

The winding paths can be confusing, crossing above and below other paths, via elegantly crafted foot bridges... each uniquely designed by the famed architect of Central Park, Calvert Vaux.

Among the activities in central park are: hiking, jogging, biking, picnicking, music and entertainment provided by licensed street performers, baseball, tennis, swimming, fishing (yes, fishing), ice skating, row boating, remote control miniature sailboats, marionette puppet shows, The Central Park Zoo, Shakespeare in the Park, Summer Stage Concert Series (usually free), free movie nights, roller skating, disco dancing... the list goes on and on and on.

You can even find fine dining and cocktails, if you know where to look. And standing in the very center of Central Park... in the very center of New York City... is the Bethesda Fountain, with the beautiful angel landing softly on the water near the lake. Nearby you can also find the bandshell, The Mall, and Sheep's Meadow.

Throughout the park there are many statues and sculptures, some stately some playful... each with its own unique story.

One of the most popular spots to visit is Strawberry Fields, with the inspiring "Imagine" mosaic, dedicated to the late John Lennon of The Beatles.

Let me take you down... let me show you around. Let me show you some of the hidden gems. Let me tell you some stories. Central Park is a MUST SEE destination when visiting New York City. I'll help you make the best of it.


---