A Walk Over The Brooklyn Bridge tour lasts just over 2.5 hours, available 7 days a week, $25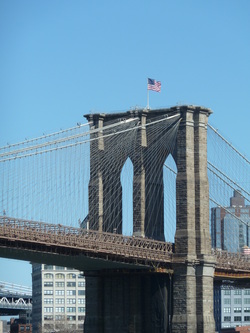 Towering high in the air like a giant Gothic Cathedral stands the majestic Brooklyn Bridge.

Originally built to connect the two cities of New York and Brooklyn, it provided access for the farmers, peddlers, and commuters. Carrying foot traffic, push carts, wheelbarrows, horse drawn carriages, even the occasional elephant – The Brooklyn Bridge changed the dynamic of the great metropolis forever.

The importance of this mighty feat of engineering can only be overshadowed by it's dignified beauty.

We start this journey in scenic Brooklyn Heights, one of the most historically important neighborhoods in all of New York.

See some of the oldest standing homes in New York City. Discover the old Brooklyn City Hall. Explore the sites of George Washington's Battle of Brooklyn, Henry Ward Beecher's quest to abolish slavery, and the stomping grounds of poet Walt Whitman. Follow the neighborhood into the modern era as it became the home of authors, celebrities, movies, and TV shows.

From high atop Brooklyn Heights you will find the greatest view of The Greatest City in the World.

Then follow me across the East River as we walk over the most famous bridge in the world. Feel the magnetic pull of the metropolis called Manhattan.

Once we set foot on the island of Manhattan, the journey is not over. There are still sights to see and stories to tell. See our City Hall, our magnificent municipal building, and the monumental court houses. Then we'll wind our way over to the South Street Seaport and enjoy the spectacular views from this side of the river.

Experience the breathtaking skyline of New York. Learn the history. Hear the stories. Make this a part of YOUR story.

A Walk Across the Brooklyn Bridge is an exhilarating experience that you will carry with you for the rest of your life.

---